Play Your Own Style, With Fusion Tables!
Functional, with a timeless and elegant design, the Fusion design pool table creates a relaxing atmosphere for dinner with family or friends. Able to seat 10 people comfortably, the Fusion design billiard table is perfect for family or professional meetings.
After the meal, it takes less than a minute to change the Fusion design pool table into a top-of-the-range billiard table. Just slide the benches under the table, remove the three table tops and pick up the billiard cues, triangle, Aramith billiard balls and chalk. You are ready to start a game.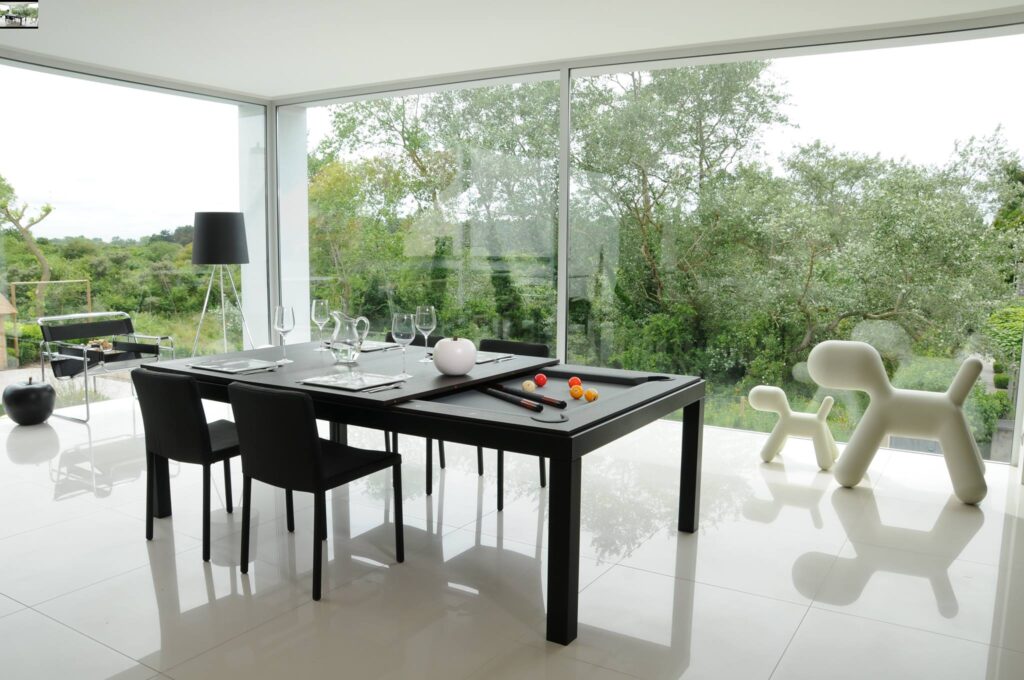 Saluc, whose headquarters are in Callenelle in Belgium, is the world leader in the manufacture of high-quality pool balls under the top-of-the-range global brand ARAMITH®. Saluc is known around the world for its creativity, flexibility and technical expertise in pool and has a unique quality - it knows how to entertain.
n 1997 our design team designed a revolutionary new table concept: a dining table and pool table all in one, featuring a modern sleek design, unlike the classic, heavy looking, wooden tables we usually find at pool table stores. They managed to design a dining/pool table the pool player's partner could live with. The Fusion design billiard table is the result of several months of trends watching, brain storming, technological developments and prototype testing in cooperation with traditional pool table manufacturers.