We have everything you need. We also have the experience to help you find the right BBQ grill, smoker or flat top griddle for you.
With such a large selection of cooking supplies and accessories, you are sure to find exactly what you are looking for at Billiards Plus. If you can't find it here, we are more than happy to make a special order for you.
Why settle for "box store cooking appliances" when you can get your own professional quality equipment at great prices? We have a HUGE selection in stock and ready to go home with you.
If you have any questions, please give us a call at (614) 760-9797. We will be happy to help you.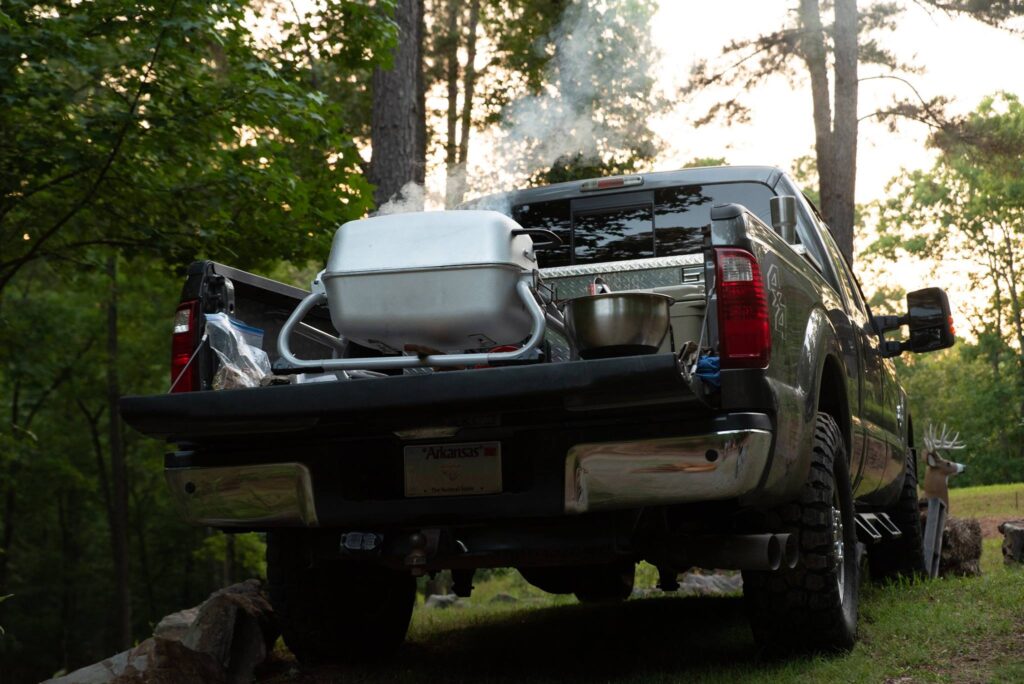 PK CHARCOAL GRILLS AND SMOKERS
When Aaron and Stacy Franklin opened up a small barbecue trailer in Austin, Texas in 2009, they had no idea what they had gotten themselves into. Since then, Franklin Barbecue has grown to legendary, bucket list status, and become the most sought after smoked meat in the land.
As a self-proclaimed tinkerer—known to obsess over the precise details of heat efficiency and cooking functionality — Aaron has found multiple ways to share his passion and knowledge of the smoked arts beyond his famed restaurant, including books, online tutorials, sauces, spices, and backyard pits (like the one pictured). And now, for the first time ever, a partnership and custom grill! Aaron discovered the Original PK grill way back in the day, and fell in love with its design and performance. Over the years, Aaron's constant engagement with Original PK led to a friendship with the folks behind the brand. Thus, a hot-rodded PK was born, resulting in this Special Edition PK+Franklin Grill. Let the magic begin.
Before Napoleon, infrared grilling was something reserved for only restaurants and the wealthy. We made this technology available to the masses. Using an infrared burner when cooking on your barbecue is much more efficient at searing than using conventional tube burners. They are ideal for quick foods and side dishes as opposed to cooking at lower temperatures for longer periods. This means that they also consume less fuel. One, two-tile, infrared burner can produce up to 9000 BTUs, and foods cooked using infrared will retain up to 35% more of their natural juices.
High heat searing is how you build that flavor when barbecuing, which makes an infrared burner ideal. Reaching high temperatures of up to 1,800°F, an infrared burner can radiate enough heat to almost instantly caramelize and brown meats. This means intense sear marks and flavor.
UP TO LIFETIME WARRANTIES AVAILABLE*
*Please check your Napoleon Grills manual for your exact warranty information.
For select products purchased after January 1st, 2020. See individual warranty for details.*
Memphis Wood Fire Grills are more than just pellet grills. The ability to cook at temperatures from 180°F to above 700°F allows users to smoke, bake, roast, and sear their food to perfection.
Taste is important, and cooking with wood tastes better. It's that simple. Cooking with pure hardwood provides real flavor and is preferred over charcoal or gas by grill masters and professional chefs alike. Our grilling app places full control of your grill into the palm of your hand. With the Memphis Grills Intelligent Temperature Control System™ and Cloud-Based Wi-Fi technology, you can control your grill from any place at any time.
To put it simply, these grills do it all and they do it well.
2/3/5/7 YEAR WARRANTIES AVAILABLE
Le Griddle is designed and manufactured in France, the country of luxury & gastronomy.
Using high tech manufacturing from the aircraft industry, our product is the top of range in outdoor cooking equipment. The whole product is made solely from stainless steel 304 and has a lifetime warranty ensuring many convivial cooking experiences year after year. Le Griddle is approved by French chefs while being optimized for the ultimate American outdoor cooking area.
Complete your outdoor kitchen with the most versatile griddle ever made & share new convivial cooking experiences with family & friends. Perfect for any meal, cook mouth-watering dinners, lunches & even breakfasts. Foods are seared & cooked in their own juices, guarantying tastier and juicier meals over and over again.
5 YEARS PARTS/ LIFETIME COOKING PLATE WARRANTIES